The Ogbomoso-born chef, Prince Adebayo Ayodeji Temitope, a.k.a Tope Maggie, has shown grit in successfully completing 72 hours (3days) in his quest to break the Guinness World Record (GWR) in cook-a-thon.
The current GWR holder in cook-a-thon, Alan Fisher, an Irish chef, set in Japan last week in a time of 119 hours 57 minutes by which he dethroned the Nigerian Hilda Baci who herself
dethroned the former holder Lata Tondon, in a time of 93 hours in May this year, is the man Chief Maggie must surpass to have a dream of entering GWR.
That is an uphill task – upturning the Irish chef record. He however has set an ambitious goal which is 200 hours.
He has set off on a bright note, with energy and enthusiasm his minders said, starting 6:31 pm Thursday at the Ogbomoso Recreation Club.
His quest has generated lots of excitement in the city with many especially students of Ladoke Akintola University of Technology (LAUTECH) thronging the venue to cheer him up and show solidarity.
According to the general manager of the project Alabi Tunji Michael, as at Sunday afternoon 74 different meals out of 205 planned have been prepared which he said are given free to the people at the venue and outside.
Alabi a.k.a. ATM told ogbomosoinsightonline.com that the turn-out has been impressive saying it shows the love the people have for Tope for his bold initiative.
He however said the objective was not only to break the GWR but actually for him to show his skills to the world and redirects global attention to Nigeria and specifically Ogbomoso.
He informed Chef Tope Maggie even registered before the recently dethroned cook-a-thon record holder Nigerian Hilda Baci but that his was delayed for inability to come up in time with the logistics.
"The motivation stems from the thought of what can I do to promote my country, my town especially. We even registered before Hilda Baci but she had opportunity because she came up with the resources required so quickly.

"And so she was able to get approval in quicker time," ATM said, adding, "It is not about breaking the record, it's about what can I do to promote my town? And secondly, I have an inbuilt skill that I can showcase to the rest of the world that can motivate the upcoming generation."
Disclosing cooking runs in the family of Chief Tope Maggie, he stated, "His grandmother was a popular figure in the line of business and her mother Mama Maggie is well known in Ogbomoso and environs for the business.
"And Tope when he was very young was with her grandmother from where he went to study tourism and hospitality course for his OND. So, it was like, well something I have been doing I can make it official."
He added, "In the course of that we are feeding the less privileged, yesterday, we went to the Kersey's Children Home where we gave them 150 pieces of packaged food and also to a beggars' base at Emmanuel Baptist Basic School area where we doled out 300 pieces of packaged food as well, today, we will be going to Twindad Orphanage Home, tomorrow Leprosy Camp to give them food.
"So, it is not about breaking record alone but it is also an opportunity to help people. Then, how can we project the name of our town? How can we focus the attention of the world on Ogbomoso? That is what prompted this quest," he stressed.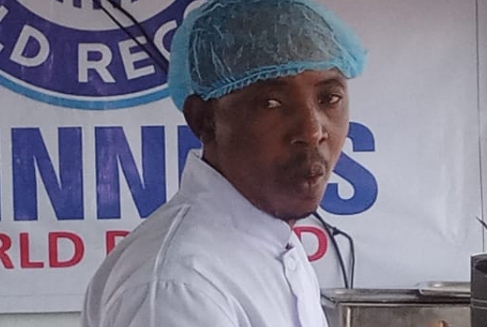 On the preparation put in place ATM dropped, "Sure, you can see for yourself; we built this kitchen from the scratch. When we started we used one and a half bags of rice, but second day two bags, third day two bags. This is aside indomie, spaghetti, yam and other things, so, it has been very challenging. It is a very big project. The litre of petrol alone per day is 100, 120.
"There must be no electricity failure. And thank God people have been coming in, Ogbomoso people, and from outside have been coming to cheer him up. But we need more help."
He also points out while responding to a question on the rest schedule, "According to the GWR rule, for every 24 hours he is entitled to rest for 2 hours, that is if he wants to accumulate it. We have an ambulance standby with stationed medical practitioners, well equipped, they test his vitals during rest periods."
The number gets increasing everyday, as he reveals, "185, 245,and 683 in the third day. People stay with us throughout. They are very wonderful people, they cheer for him."
Different artistes have been adding pep and enlivening the event, "On the first day Yemi Melody entertained the people. Then, we are expecting Nice, Laolu Gbenjo, Lecturer, we have a timetable for musicians."